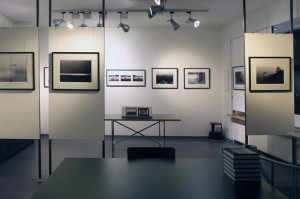 by Connor Mulvaney
"I think somebody said 'if you want to make a statement, send a letter,'" said Nick Hermanns, curator of the Fotogalerie im Blauen Haus in Munich.
"Photography isn't about having a message. This is just showing how somebody sees a special part of the world."
Hermanns not only curates his own gallery but also is an avid professional photographer, author and a graphic designer. Seeing the trade of photography from both sides of the gallery windows has given him an interesting perspective on the field.
"I have a pretty simple philosophy about photography. It's not so artistic and not so sophisticated," said Hermanns. "[Making a photograph] is just showing how I see something. It's just a picture."
Hermanns , 63, who has lived in Munich for 45 years and has operated his gallery since 2010, describes his taste as traditional, which drives his choices in exhibitions in his gallery.  His current exhibit, "Landscape Impressions" is by Willi Morali, a photographer and architect from Velbert, Rheinland
"There is one thing which all my artists have in common.  They do pure photography, so they don't manipulate [their photographs]," said Hermanns.
This technical foundation separates Fotogalerie im Blauen Haus from the field of German galleries and photographers, according to Hermanns. "I don't think [this exhibit] fits in anything.  It's really completely outstanding," Hermanns said.  "It's really far away from the German art scene."
In an art community with many "extremely expensive" and popular photographers, Hermanns' gallery stays true to his principles.
"This gallery has its focus on photography, not on art. It's more [about] a kind of straight photography, which is easy to understand and nice to look at," said Hermanns.  "Of course, sometimes the issues [represented in themes of other works] are wilder than this one, but still, it's not a big art thing.  It's just photography."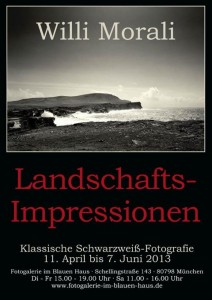 Photos in Landscape Impressions by Morali were all exposed on film across several countrysides across Europe.  Each is carefully composed, often with vanishing points or displaying perspective in some form in a way that draws the viewer's eye around the picture and easily allows him or her to digest the photograph.
"It's pretty easy to understand. It's not a sophisticated kind of artificial photography," said Hermanns.  "You can just look at it, you see it's a tree, it's black and white, and I understand what is happening there.  It's nothing with a big concept or intellectual whatever. It's just photography."
The photos were printed in a darkroom on silver gelatin paper and then toned with gold, selenium or palladium to give them a taste of color as well as to preserve them.
This may read like Greek to the modern photo enthusiast, but it is this traditional approach that Hermanns has a passion for.
"The guys who work like this are not so many.  Most [photographers today] shoot digitally…and this very traditional style starts to become rare," said Hermanns.
However, the value of traditionally made photographs in a lightning-fast paced field is not necessarily worth its weight in whatever it's toned in.
"I don't think [working this way] is of value. It's just another way to work," said Hermanns.  "I think it's a question of feeling.  [Silver gelatin] gives you the feeling that this is really craftsmanship, somebody did something with that and not [just] pushed a button.  Both can bring perfect results."
Morali was able to produce such perfect results in Landscape Impressions, according to Hermanns.
"I think he's a really extremely perfect printer," he said.  "If you've seen the tones of the photography, there is still something in the black, the deep parts of the photo, and also in the very, very light ones.  This is perfectly done; it's just really good craft."