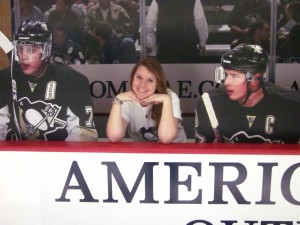 Hello, dear readers!
My name is Alexa Blanchard and I am a rising junior at Point Park University where I major in multimedia and minor in marketing. I am so excited to blog about our once in a lifetime trip to Germany!
It's hard to believe that in a few short days we will be boarding our plane at the Pittsburgh International Airport and headed overseas. I came from college a few days ago and between working, unpacking, and a collection of other responsibilities, I've hardly had time to relax. I can't wait to get to Germany take a break from life for a while, even though we will still be plenty busy with our dizzying amount of media and cultural visits.
What am I excited the most about? I feel like there's too much to list: tours of Berlin and Munich, a side trip to Dachau Concentration Camp (honestly I'm just going to cry the whole time), visiting Neuschwanstein Castle, taking in the nightlife, sampling the food, and exploring the country, just to name a few. I'm hoping to make it to a sports bar or two – who knows, maybe they'll even be nice enough to put the Pens game on for me. It's not like I can take a break from the playoffs.
That being said, I still have to pack, get some money changed, and just take care of business overall. I can't wait to head back to Pittsburgh on Friday. Then on Saturday I'll be ready to brave the Port Authority buses and hope they get me to the airport on time. Here's to strategic planning!
Bis demnächst – until next time,
Alexa